Kansas City Catalytic Urban Redevelopment Initiative
Jon Dilley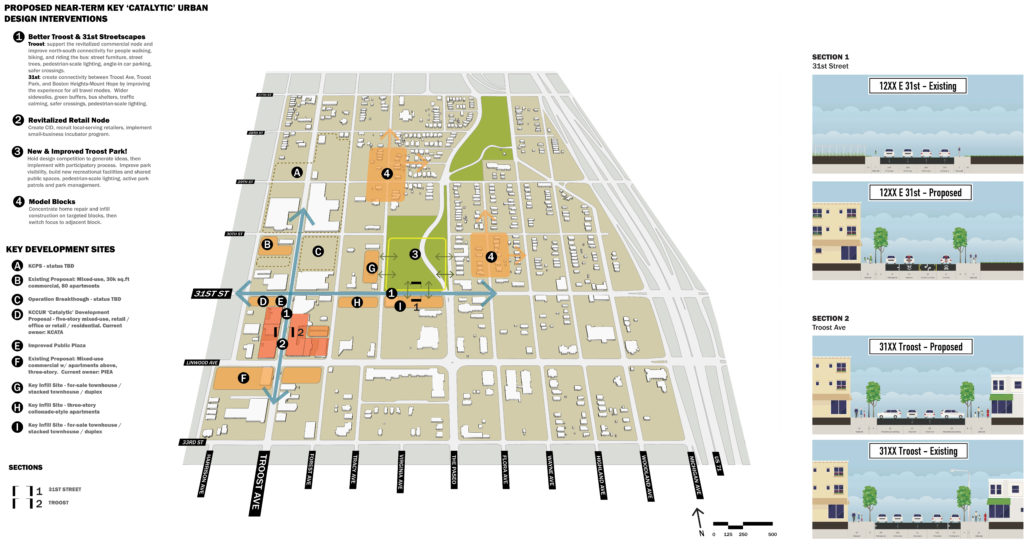 The Kansas City Catalytic Urban Redevelopment (KC-CUR) Initiative is intended to create and galvanize broad cross-sector support for a comprehensive, place-based neighborhood redevelopment strategy for Kansas City's urban core neighborhoods. The project was led by Greater Kansas City LISC, the Urban Neighborhood Initiative (UNI), MARC, Kansas City ULI, and the City of Kansas City, MO. In collaboration with the primary consultant Mosaic Urban Partners of Washington, DC, DRAW led the project's urban design scope of work.
The KC-CUR strategy brings forward previous area planning efforts into implementation, with the goal of restoring east side neighborhoods as mixed-use, mixed-income neighborhoods of choice. The project's principal outcomes were to:
Incubate an entity with sufficient organizational capacity to lead large-scale transformational redevelopment projects
Establish a $30-50 million patient equity fund to finance redevelopment
Identify one or more targeted focus areas within the UNI where development is most feasible and will have the greatest community impact
Create a physical urban design master plan and implementation framework fostering a "critical mass" of near-term public and private investment at sufficient scale to catalyze self-sustaining neighborhood redevelopment.
---