Fire Station 15
Julia Voigt
Fire Station 15
By Julia Voigt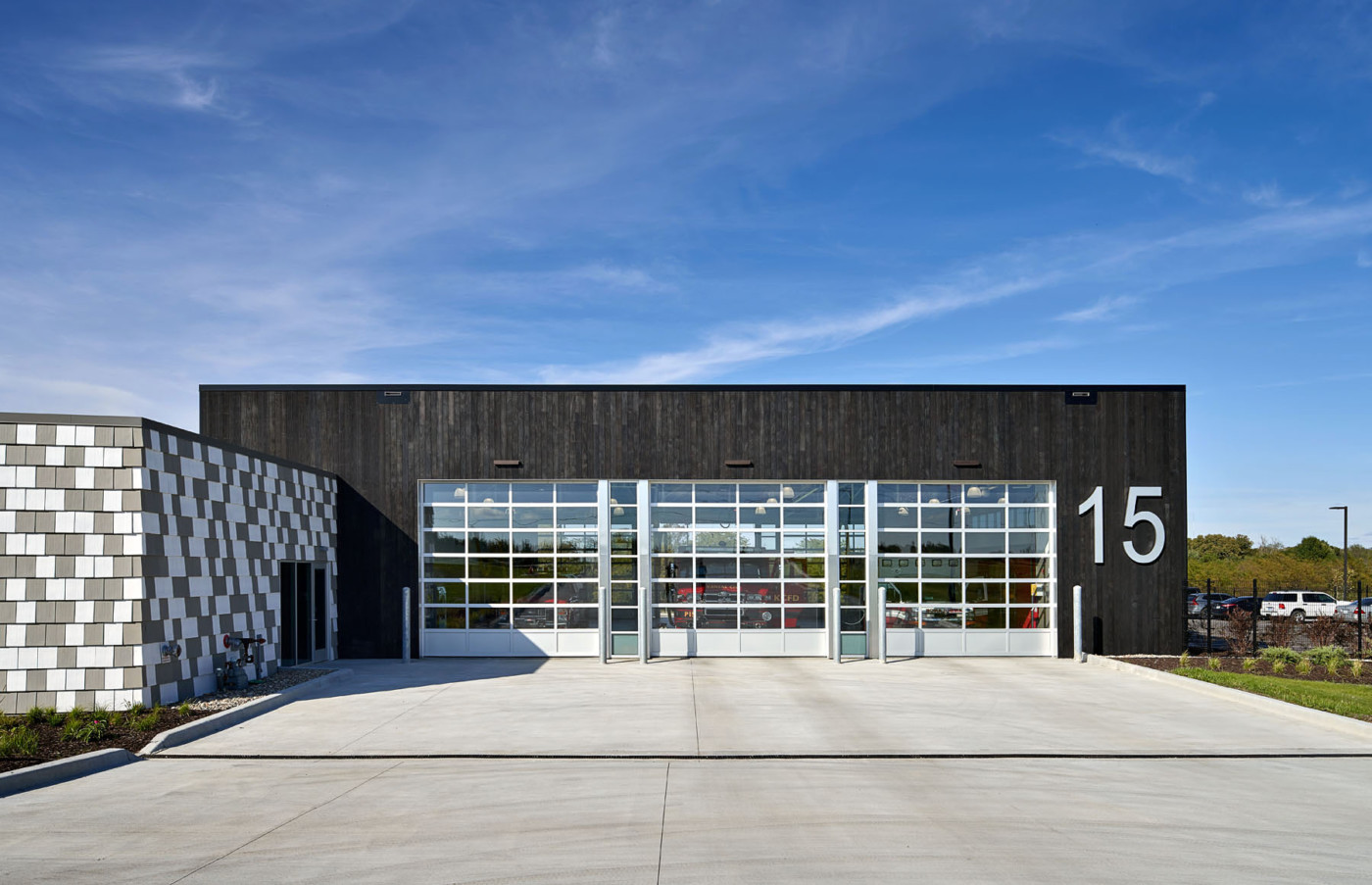 The team was hired by the city to design a fire station that better served the city's northeast neighborhoods while emphasizing firefighter health and wellness. In researching the programmatic circumstances, needs, and behavioral patterns of fire stations, it became evident that this building typology required distinct solutions.
The latest research shows that firefighters have increased risks of cancer. Exposure to carcinogens released during fire events is the most obvious factor, but others are less intuitive. Diesel fumes in the apparatus bay and contaminants carried on firefighting gear significantly affect fire station indoor air quality; firefighters spend most working hours at fire stations, the stations themselves become a significant influence on firefighter health.
The fire station also poses a unique challenge from the perspective of resource usage. Because of continuous occupation, the fire station requires continuously operating building systems. Additionally, a fire station's water usage – while excessive when compared to other building types – is necessary for daily operations; stations often have multiple shower stalls for firefighter washing, and trucks are washed numerous times per week.
Understanding these challenges, along with other project imperatives, including sustainability, function, efficiency, and response speed, played meaningful roles in the design process. When considered collectively, we realized that this project had to establish and abide by distinctive energy standards, which afforded opportunities to include and merge ideas of health, sustainability, and smart technologies.
We organized the design of the fire station along a strict division between the working "hot" zone and the living "clean" zone. Boot wash stations, a decontamination room, and gear washers/driers are located along the line of demarcation to remind firefighters of best practices as they move between zones. Additional vital factors in the building plan were isolating sleeping quarters from living space, creating efficient paths of travel, and giving firefighters access to daylight, views, and outdoor space. In response to these requirements, the building's orientation and geometry funnel daylight towards both common and work areas, while simultaneously shading bunk rooms. Exterior and interior shading provide glare-free light and individual control. Quiet zones flank common areas, along with sleeping rooms and private shared restrooms. Interior finishes are simple, clean, and durable. Shared spaces are open, filled with light, and have a strong indoor-outdoor connection.
Smart building technology surrounds and supports the unified station. Sensors in the station track indoor air quality, temperature, water, and energy use and display real-time feedback on local and mobile dashboards. This monitoring allows severe issues to be dealt with proactively, avoiding downtime for repairs or unhealthy conditions. If any of the monitored particulates reach critical levels in the app bay, exhaust fans automatically activate. Clean Zone and Hot Zone air quality can be monitored and compared, allowing firefighters to see how the well-being of the space reflects their behavior.
The design incorporates further sustainability and human comfort measures. A roof watershed 5000-gallon catchment and filtration system provide water for truck washing, reducing overall station water use by 80%. On-site planting requires no irrigation, and a rain garden acts as a natural retention pond. Both the walls and roofs are comprised of continuous high R-value insulation, allowing for lower-capacity/lower-energy MEP systems. A highly efficient VRF system is quiet, flexible, allows more precise individual temperature control, and lower life cycle costs.
By combining sustainability, smart building technology, and empathetic design, the final structure considers health, comfort, cleanliness, and cost savings. This kind of positive impact design is used by DRAW on all its projects, allowing us to create inspired places that perform well for both the occupants and the environment.