Stealth Modern: Injecting modern aesthetics into a traditional neighborhood
DRAW
Stealth Modern: Injecting modern aesthetics into a traditional neighborhood
By DRAW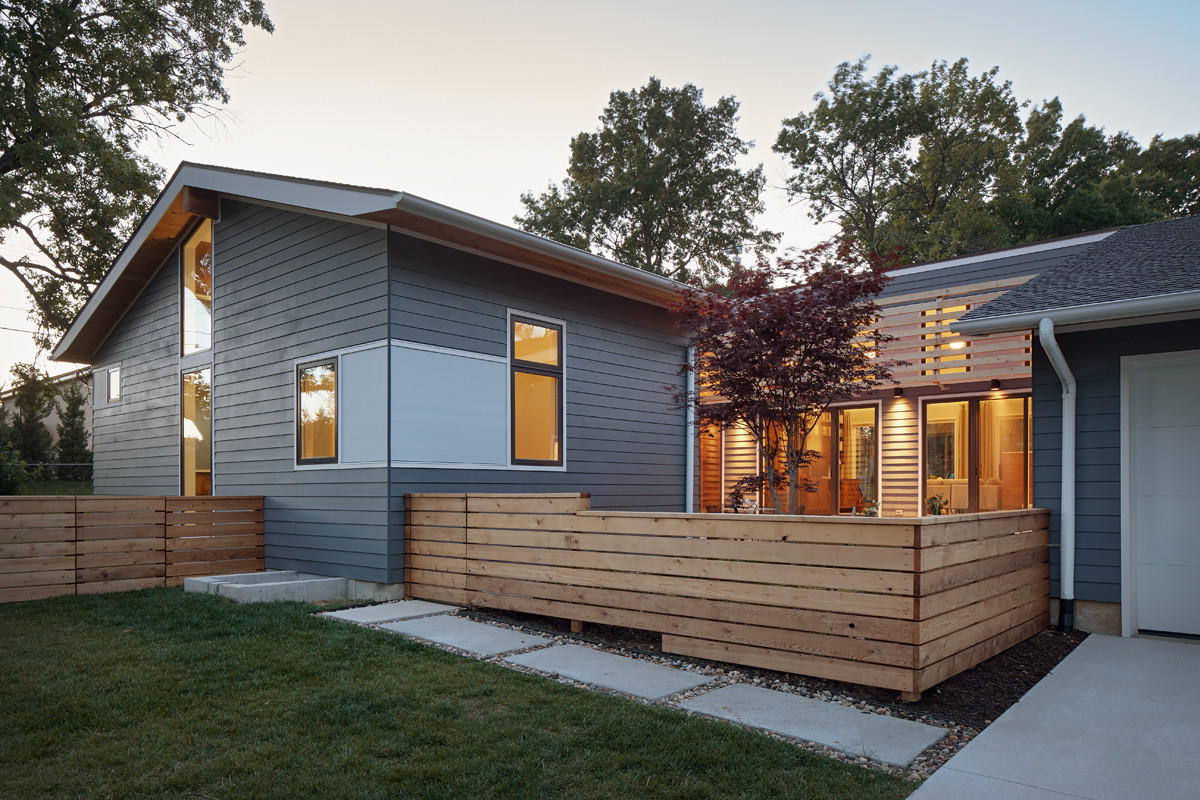 Mike Sinclair's presence at one of our projects is usually a call for celebration.  Not because he's such a great guy (though he really is) but because Mike Sinclair is an accomplished architectural photographer, and his presence usually means a project has wrapped up – with owners all happy and moved in, fully experiencing the place that we have designed for them.
The Day Residence in Leawood, Kansas was Mike's latest assignment for DRAW.  Designed for Chris and Kristie Day and their two kids, we like to think of theirs as a "stealth modern" home.  Viewed from the street, the home fits into the neighborhood fabric without calling too much attention to itself, with the east facade of the home reflecting a mid-century modern ranch aesthetic found throughout the area.  As you enter the front door, however, it becomes clear immediately that the experience of the house is more dynamic than its first impression would have you believe.
In addition to its mid-century ranch pedigree, the Day Residence was also influenced by New Orleans shotgun houses experienced by Dan Maginn (lead designer on the project) while he attended architecture school at Tulane in the late 1980s.  The concept he developed for the Days included modifying the basic linear scheme of a shotgun house (where circulation happens along one side of the house, connecting living spaces from front to back).  Rather than responding to a typical New Orleans building lot (known for being skinny and long), the design responds to the Day's much wider lot, by folding around a central courtyard. This interior focus reflected the Days' desire to have a variety of private, family-oriented spaces and to connect the inside spaces to the outside in a seamless way.
The home has numerous sustainable features, including enhanced insulation levels and a ground source heat pump, which will contribute to lower utility bills. The design process utilized an energy model during schematic design, to ensure that the final home was informed with both experience and performance in mind. Filtered daylight and cross ventilation also passively contribute to dynamic space and improved energy performance.
Aside from listening carefully to our clients during the programming and design phases, we also try to help our clients tell their story through architecture.  For the Days, one story that helped drive the courtyard design is told thru the presence of distinctive wood siding from a barn on Kristie's family farm.  The barn, which had seen better days, now lives on in Leawood – and its story helps to enrich the experience of the house for the entire family, connecting them to their past and accompanying them into their future.
Thanks to the Days, project manager Graham Still, and general contractor Centric Homes.